So a while ago I actually did some "live twittering" as I played Oregon Trail and I told Crystal that I was gonna post the screenshots and general adventure here. OPPS I FORGOT
Until NOW!
so my friends, join me as we play… OREGON TRAIL!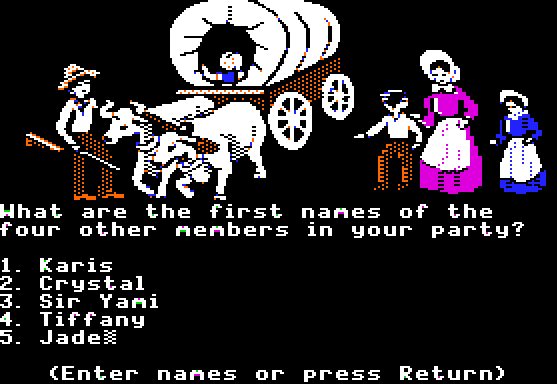 And so here we have our 5 adventurers. Me, Crystal, Sir Yami, Tiffany and Jade.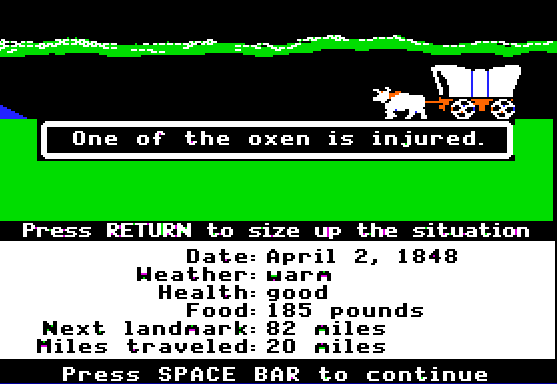 5 seconds in and an Ox already decided to injure itself…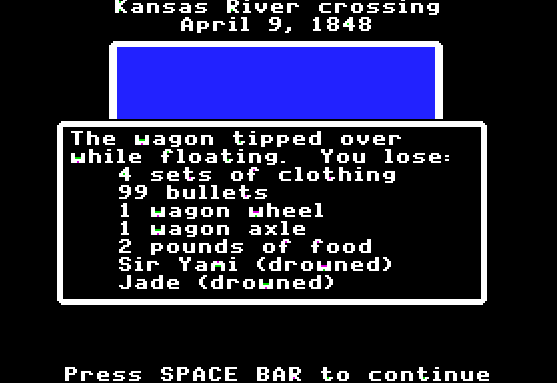 and this was the first signs that this trip really REALLY wasn't going to go well (aka Sir Yami and Jade died already OOPPSSS) also it's really casual with meantioning that they fucking DIED!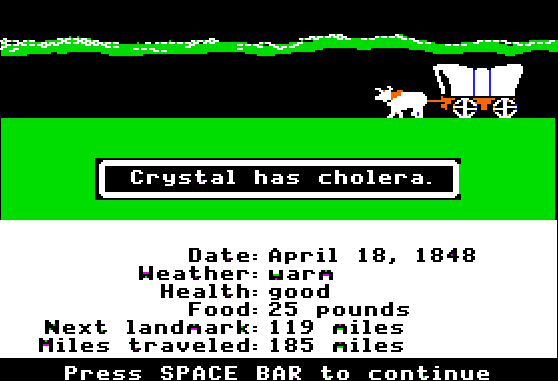 OOPPS, CRYSTAL GOT ILL ):
and then she died ): *sob* yep, within about 5 minutes of game play there is only me and Tiffany left on this adventure.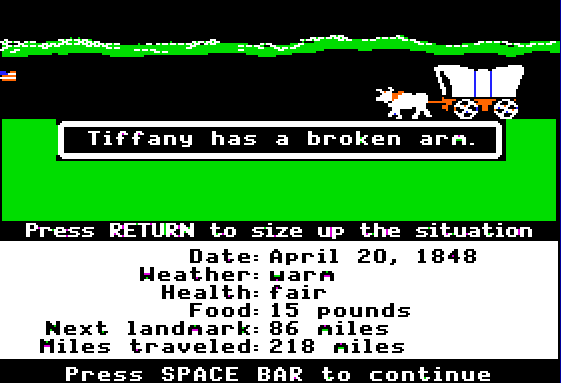 and then Tiffany swiftly broke her arm!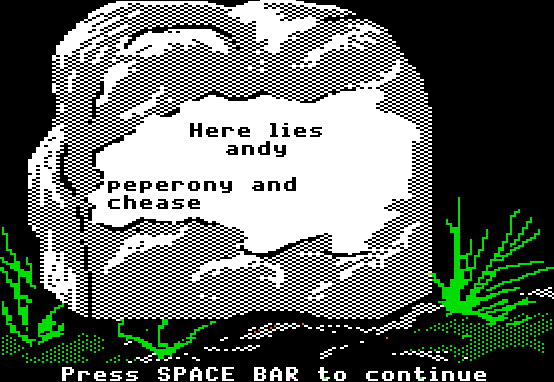 This was amusing to me for many many reasons.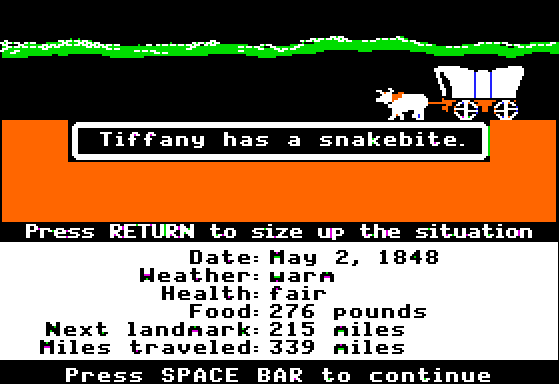 and this was the first sign of Tiffany's amazing ability to pretty much recover from anything thrown at her.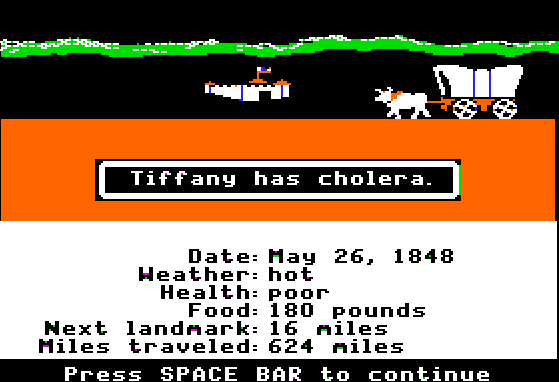 I was pretty sure that this being what killed off Crystal that alas poor Tiffany would go the same way… but nope, Tiffany has an amazing amune system aparntly.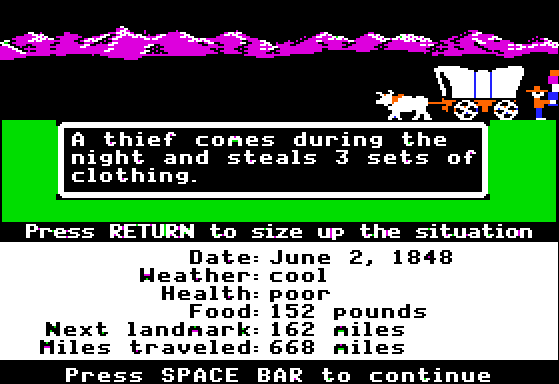 and then a theif stole our clothes and left us naked. ):
): Daisy was our favourite oxen. May she rest in peace.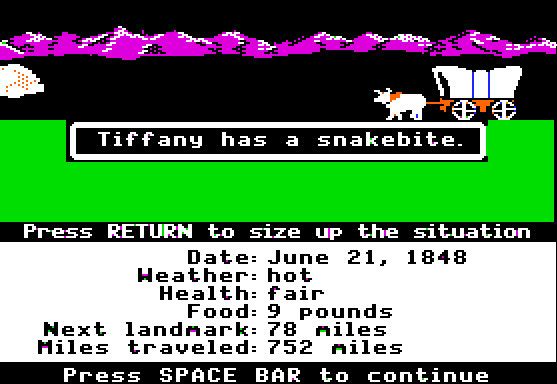 Snake's seem to like Tiffany for some reason.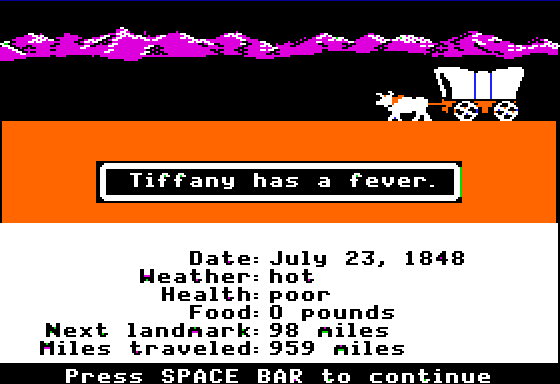 Yeah I don't know how Tiffany's still alive at this point. LOL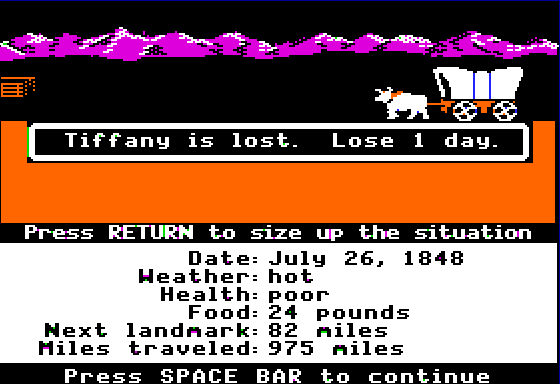 and uh… Tiffany got lost? … wait what? Did she get lost in the wagon? Did she fall out? Did she go for a piss not tell me so I went on without her… HOW DID THAT HAPPEN?
And Tiffany then died. ): But considering she survived a broken arm, Cholera, two snake bites and fever and getting lost I think we can say she did pretty well considering.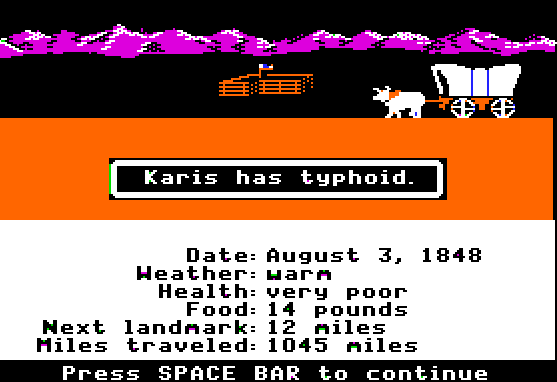 … Ooohhh. Ouch!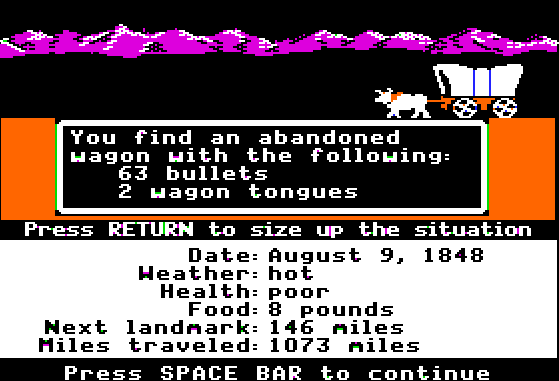 FINALLY SOME GOOD LUCK IN THIS JOURNEY OF DESPAIR. LOOOTTTTZZZ!!11!!
OH CRAP.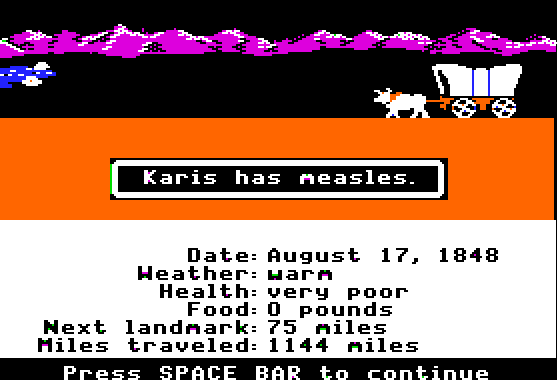 Oh shit I seem to have the same amazing amune system as Tiffany.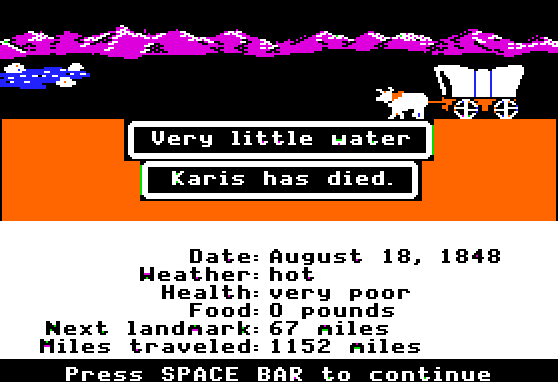 OPPS NEVER MIND. *DEAD*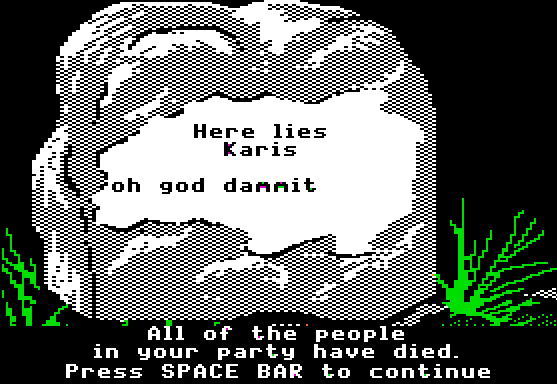 and thus ends the journey to Oregon by Karis, Crystal, Tiffany, Sir Yami and Jade. Alas, Jade and Sir Yami where lost early in the journal, Crystal died soon after. Tiffany… somehow survived a whole bunch of shit then just dropped down dead and I died of Measles.
(PS: if anyone know's any more games sorta like this where I can name characters and are pretty quick to play lemme know I kinda wanna do more screenshot adventures like this :3)